Follow this Men's Health pleasure map to find a woman's five orgasmic hot spots.
Make her orgasm in 3 minutes
You may know where to find this sexual silver bullet, but it goes much deeper than you realised. "The clitoris is like the tip of an iceberg," says Dr Hilda Hutcherson, professor of Obstetrics and Gynaecology at Columbia University and author of What Your Mother Never Told You about Sex (Penguin). "Like the penis it has a glans and shaft as well as 'legs' – erectile tissue that runs down either side of the vagina and towards the back of her thighs in a wishbone shape." If you are just rubbing her on top you are missing out on stimulating these sensitive areas around and underneath.

How: "The Kivin method of oral sex gives 60% of women a faster and more intense orgasm because it stimulates more of the clitoris," says registered sex therapist Dr Patti Britton, (www.askthesexcoach.com). "Most women climax after three minutes and all in under 12." Ask her to lie on her back while you position yourself side-on between her legs. Put two fingers either side of her clitoris to raise and steady it and slowly sweep your tongue back and forth feeling for two tiny bumps on each side of the hood. Slowly increase your speed then using a finger from your free hand press into her perineum. As you feel her nearing orgasm, transfer your tongue from the side to the head of her clitoris. Read more
Men's Health scoured the latest studies, grilled dozens of experts, and polled more than 700 women to come up with this list of 12 sex secrets women wish men knew. For example, did you know about the A-spot?
The G-Spot Has Friends. Find Them
You're goal-oriented. Good. But the G-spot and the clitoris aren't the only bull's-eyes. "The most recent anatomical research suggests that the clitoris is perhaps better described as the 'clitoral complex,' where the vagina, urethra, and clitoris all function as a unit rather than as individual parts," explains Kinsey Institute researcher and Men's Health columnist Debby Herbenick, Ph. D.

Try working that clitoral complex by hitting multiple hot spots at once. Some researchers believe there's something called an A-spot, located far inside the vagina on the side closest to her belly button. "Stroke this spot and she'll lubricate almost instantly," Cox says. "Put one lubed finger into her vagina as far as it will comfortably go. Use the whole length of your finger to explore the front wall of her vagina."

Now triple the sensation: Stick both index and middle finger inside her, and stick out your thumb like you're hitchhiking. It'll pull your fingers more snugly against her vaginal walls, stimulating both A-spot and G-spot simultaneously. Then use your thumb to also stimulate her clitoris, and gently twist your hand. Read more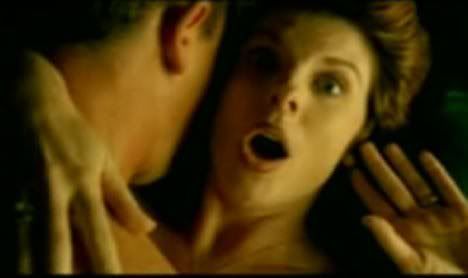 My posts about penis size are always popular, but the responses I get from women are about their concerns with how big their partner is, not about how small. Some women find that a very long or thick penis can cause discomfort and even pain during sex. A long penis can hurt because it can hit the cervix during penetration, and a thick penis may feel like it's stretching you too much. Since I'm among the one in three women who does enjoy sex with a big penis, I'll explain why I do.
It's been said that the brain is the body's largest sex organ. A big penis can be both a visual and a sensational turn on. The sight of a big penis makes many women think about the potential pleasures of feeling "full, " which can cause sexual excitement before foreplay even begins. The "vaginal ache," a desire to be "filled up" that women get during sexual arousal, may be satisfied by having something large stretch and fill the vagina. Also the experience of accommodating a big penis can be a mentally stimulating, thus, making it easier to reach orgasm. Continue reading →
Belisa Vranich at Men's Fitness says that if your woman goes to bed without experiencing each of the orgasms below, you haven't done your job.
Women will put up with one, maybe two, nights without an orgasm from you. But you'd better know how to hit her G-spot before too long or you'll be getting cozy with her answering machine. Here's why: For 70% of women, penetration alone is not enough to bring them to climax. That's a hell of a lot of women walking the earth with no satisfaction. See a way to get laid more? Understand her orgasm(s), as well as when and how to give them, and you'll be a more confident man with a lot more sex in your life. Consider this your contribution to womankind. Read more
The first step to successfully working a woman's two pleasure zones is knowing the difference between them. Each area needs its own type of attention and will bring very unique sensations for her.
The last thing you want to do when you're a little lost is ask for directions — especially when you don't know your way around the bedroom. No one will argue that the female body is straightforward and without mysterious secrets, so you shouldn't feel too bad for needing some pointers on her pleasure zones and the intricacies of the female orgasm.

To make it as simple as possible, there are two basic ways to go about bringing your lady to orgasm: stimulating her clitoris and stimulating her G-spot. Each area needs its own type of attention and will bring very unique sensations for her, and both are worth knowing a bit more about. Keep reading for the quick and easy reference guide to satisfying your woman — no map required. Read more
A London clinic says it is the first in the UK to offer a GBP-800 collagen injection to enhance the G-spot.
An injection that increases the size of a woman's G-spot to heighten her orgasm is set to hit bedrooms across the UK.

The £800 collagen jab temporarily enlarges the G-spot to the size of a 10p in width and a quarter of an inch in height – making it hard to miss.

The G-Shot is given under local anaesthetic and is being hailed as the latest lunchtime procedure, with most women in and out of the clinic in around half an hour. Read more
Truthfully, there probably is no ultimate sex position for all couples, but the butterfly position is a good candidate.
The "butterfly" may be the ultimate sexual position. The butterfly sex position is easy for both the man and the woman to do, and it's very pleasurable for both partners. Finally, because it's a face-to-face position, the butterfly provides intimacy between lovers. This position is called the butterfly because, when the woman's legs are wide apart and the man is thrusting, her legs simulate the movements of the wings of a butterfly. Read more
Whoever named this position is more imaginative than I, but the name does fit, especially if your feet are at the guy's waist. Personally, I get better G-spot stimulation with my feet are on his shoulders though.